Discover more from efosa
efosa is an online platform that highlights small business initiatives, events and experiences within Ontario with a specialized focus on Black-Led and Indigenous-Led initiatives. Our content is educational, resourceful and fun!
The Toronto Soul Music Festival - Fall Into Soul (November 19th)
Black-Led Events happening in Ontario - November
Iconic Arts & Entertainment hosts their inaugural Toronto Soul Music Festival at the bubbly REBEL club featuring renowned RnB and Soul acts, including Jully Black, Toronto's hottest RnB group - DVSN, Glenn Lewis, Ray Robinson, and more!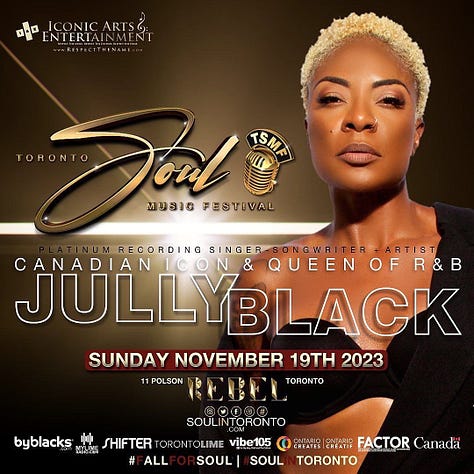 Event's Website/Socials
---
Where
11 Polson Street, Toronto, ON M5A 1A4
When
November 19th, 3:00 pm - 10:00 pm
Admission
Priced. Tickets go for $50. Grab your tickets here
---
Like what you see? Subscribe to our blog to be updated on events in Toronto, markets, and more.
Show us your support and keep up-to-date with our activities on our Instagram.
In the meantime, if you are looking for a place to find black-owned, indigenous-owned, and small businesses in Ontario, you can subscribe to our blog and be notified when our beta launches later this year.